Infinite Ad Pay WordPress Plugin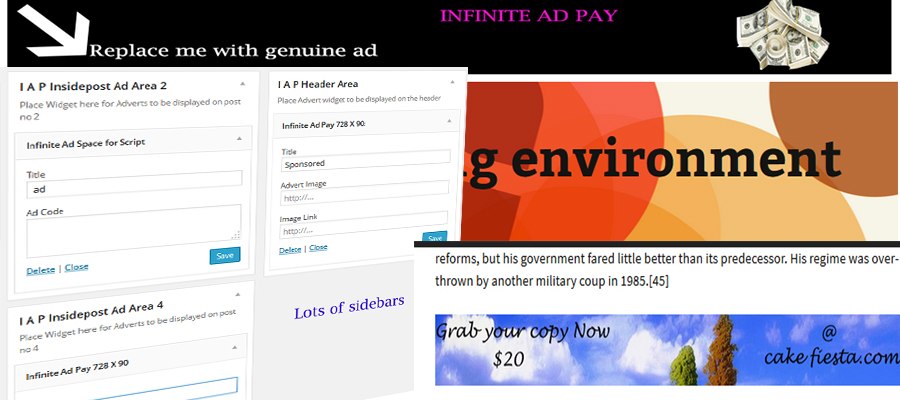 What is Infinite Ad Pay
Infinite Ad pay Is WordPress plugin that allows you to place advert anywhere in your wordpress site. You can start running multiple ads and get paid through infinite channels. Your choice of a theme will no longer depend on the number of ad slots available. You get all ads slot you will ever need in infinite ad pay.
Features of infinite ad pay
Place ad inside post content.
Create multiple ad widget area based on number of posts per page.
Creates widget area inside wordpress header (best target for ads).
Raise the possibility of ad clicks and visibility of ads: Make your advertisers happy, make yourself rich.
Creates Widget area below single posts content.
Creates Widget Area below single page content.
No Javascript, site load speed increase
Installation
Option 1
Infinite ad pay from wordpress.org.
Upload the files to your hosting account inside WP-CONTENT/PLUGINS folder (Use FTP application or Hosting Account File Manager).
Extract the plugin files if it is not yet extracted.
Go to your wordpress dashboard, Select plugins from the dashboard menu, Activate Infinite ad pay from your wordpress dashboard.
Option 2. (Recommended)
Use powerful wordpress plugin search available on your wordpress dashboard and install wordpress plugin from your login wordpress dashboard.
Search term = "infinite ad pay".
Option 3
Make a donation (any amount)to the plugin development, and send your installation and configuration request to mr@mrparagon.me for free installation. Your donation is purposely for maintenance of this plugin and for development of more plugins.
Frequently Asked Questions.
Does "Infinite ad pay" support my template.
Infinite ad pay have been tested in a great number of templates, if your wordpress template meets wordpress.org standard, the answer is yes! Infinite ad pay support your template.
How many ad widget area can a create.
The number of ad widgets depends on number of post per page.
The math is, post per page/2 = number of ad widgets area.
However, header widget area, single post and single page is independent of this number.
Tutorial file.
There is no tutorial, Infinite ad pay is easy to use. if you need help please contact support. I will be glad to help.
Screenshots.
Download link.